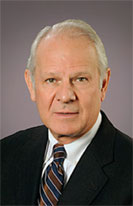 Lewis A. Levey
Mr. Levey is a founding member and the Chairman of Enhanced Value Strategies, Inc. (EVS). Formed in 1997, EVS provides strategic real estate consulting and advisory services to both private and institutional owners, as well as leasing and management services.
Formerly, Mr. Levey was a founder and Managing Director of Paragon Group, Inc. Commencing in 1973, Paragon Group's growth resulted in the company becoming a publicly-traded (NYSE) REIT in 1994, operating a near-billion dollar real estate investment portfolio located in 18 different states, consisting of office buildings, retail centers and multi-family communities.
Under Mr. Levey's leadership, Paragon was consistently recognized as a national industry leader for its innovative and superior-performing real estate investments. He directed and managed all aspects of Paragon's real estate portfolios and operations. He is a member of the Urban Land Institute (ULI) and was formerly Chairman of ULI's District Council.
He is also a member of the National Multi-Housing Council (NMHC) and is a former member of its Board of Directors. Mr. Levey serves on the Board of Directors of the following civic organizations: Grand Center, Inc.; St. Louis Psychoanalytic Institute; St. Louis Sports Commission; and Center of Research, Technology and Entrepreneurial Exchange (CORTEX). He received a Bachelor of Science degree from University of Wisconsin and a Masters of Business Administration degree from Washington University.
Enhanced Value Strategies, Inc.